A New Focus
For more than 20 years as a writer, lecturer, and advocate, I have specialized in the politics of language. This web site has highlighted that work, while reporting on the English Only movement, bilingual education, Native American language revitalization, minority language rights, demographic data on language usage, and related issues. My original aim was to inform and elevate the discussions surrounding language policy – or lack thereof – in the U.S.A. That will continue. But the site will now emphasize my own writing. For reports on current developments, please visit the Institute for Language and Education Policy, a nonprofit organization I helped to found in 2006 that is devoted to research-based advocacy for English language learners.
Please note my new URL – www.languagepolicy.net – and update your browser. All previous posts – detailing research and events of the past two decades – remain on the site. To access them, simply click on the Archives button.
Reprints Available
Most of the material on this site may be downloaded at no charge. Other articles and book chapters are available for a reprint fee (secure transaction via PayPal) based on the number of pages and copies desired.
Other Books by James Crawford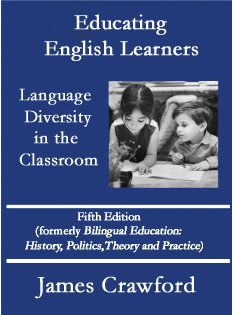 Educating English Learners:
Language Diversity in the Classroom
5th Edition (formerly Bilingual Education: History, Politics, Theory and Practice; BES, 2004)
Table of Contents & Permissions
Order as eBook or as Paperback
NOW AVAILABLE IN A KINDLE EDITION @ $19.95
"By far the most complete, the most thorough, and the most insightful volume of its kind ever done in the field."
– Stephen Krashen

---

Advocating for English Learners:

Selected Essays
(Multilingual Matters, 2008)
Table of Contents & Permissions
HOW TO ORDER
"Valuable insights on language policy in the education of immigrant children ... A compelling book to read."
– Theresa Austin, Teachers College Record

---

At War with Diversity:
U.S. Language Policy in an Age of Anxiety
(Multilingual Matters, 2000)
Table of Contents & Permissions
HOW TO ORDER
"A valuable book for any language-minority education professional who yearns for a better understanding of the political nature and the ongoing debates surrounding language policy in the United States."
– Harvard Educational Review

---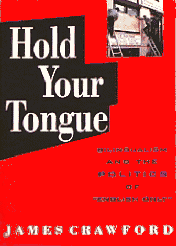 Hold Your Tongue:
Bilingualism and the Politics of English Only
(Addison-Wesley, 1992) *** STILL IN PRINT!!! ***
Table of Contents
HOW TO ORDER
"Rich in anecdotes, majestic in its sweep and scope ... A ground-breaking study of the English Only movement."
– Henry Cisneros

---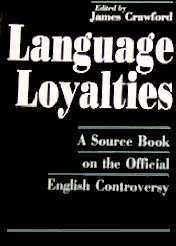 Language Loyalties:
A Source Book on the Official English Controversy
(University of Chicago Press, 1992)
Table of Contents
HOW TO ORDER
"Truly superb. ... Belongs on the shelf of every person even mildly interested in the political struggle over language."
– Sanford Levinson, The Nation